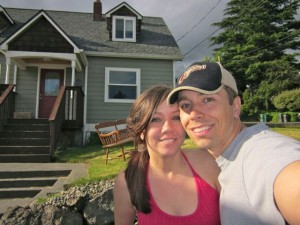 Can you say "practice what you preach?" Yes, we just did it. My wife was searching around online for homes, when she came across a nice home in Bremerton, right in the area we have always loved. She forwarded the listing to me. It was a beautiful 1938 craftsman that had been completely renovated, with a large deck and a great view. I was immediately interested. Of course, my real estate brain took over and I decided to look online at the county assessor website only to find what I worried about…..the current owners just bought the home a little over a year ago. My first thought was, "oh, we can't buy this, there's definitely no equity." After all, being a full-time real estate investor means that I really don't want to consider a purchase unless I can get the home well below market value.
Now, in real estate they say it's about location, location, location. This was the perfect house, in the perfect location. The second rule of real estate is you make money when you buy, not when you sell. That usually means getting property at a great price, but it can also mean getting great terms! After thinking about it for a while, I realized that we can make this into a great deal if we could negotiate a long term lease-option. That would give us the opportunity to lock in the price of the home for several years, and have a good chunk of each one of our payments go towards the principal. Either the market would start going up and we'd have good equity when we finally had to buy, or the market would go down and we wouldn't be obligated to purchase if it didn't make sense in the future.
This is one of the great things about buying with a rent-to-own. You get most of the same benefits of owning, but can hedge your bets and limit the downside if the market doesn't cooperate. Now, the seller's had never even considered a lease option at the time. They were simply advertising their home for sale….BUT…I was able to show them how it could be a win-win for all parties involved, and in the end we struck up a deal. Seller's happy, buyer's happy….that's the way to do it.
So, I've got two morals to this story. One is that rent-to-own is an especially good strategy in this market, and two, there are rent-to-own homes all around us, even if they're not advertised that way. All you have to do is get a little creative, and show how it can be a win-win for everyone.
I'm thinking of putting together a guide on how to negotiate a rent-to-own, let me know if you might be interested.