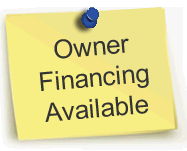 According to the latest Case-Shiller data, released this week, home values saw year over year gains in all 20 metropolitan areas that are tracked. Holy cow, have we seen the real estate bottom? Maybe yes, maybe no. The fact is there are still a lot of foreclosures and 'shadow inventory' out there (bank owned homes that are sitting vacant, and not up for sale….yet) The problem with timing the real estate bottom, is that by the time you know you've hit it, it's too late.
Now, what happens if you really WANT to buy a home now, but you're caught in the predicament of not being able to qualify for a loan? Or, maybe you had a recent foreclosure or short sale and can't bear the thought of renting again while watching real estate prices rebound.
Fear not, there are a few solutions for you. As you probably know, I've been buying dozens and dozens of houses over the last several years even though I can't qualify for traditional bank financing. So, how have I done it? Here are the top three ways:
Private Lenders
Instead of going to Bank of America, or Chase to get a loan, I involve private lenders. This would be regular people, just like someone you might know right now, who have retirement money saved up and not getting a good return on their investment. I offer to pay them, just like I would a bank. They get a better return than they could get with a CD, and I can buy a home with the money they lend.
Seller Financing
Believe it or not, there are a lot of sellers out there who would be happy financing the sale of their home for you. That means you might not have to get a traditional loan. You may have to pay a reasonable down payment, but all of that is negotiable. The point is, when you're working directly with a seller (i.e. – a real person), you can help make the rules.
Lease-Purchase
Buying a home through a lease purchase (rent to own) is a great way to get just about all the benefits of owning without having to qualify for a loan right now. That's what my wife and I are doing in the home that we are living in right now. The owners wanted to sell, but were having a tough time with the slow market. We approached them with the offer to lease their home with an option to purchase. This allowed us to lock in the sales price and have a portion of each payment go towards the purchase, just like a regular mortgage would. If prices go up, we get to capture the equity when we buy.
There you go, three ways to buy a home even if you have bad credit, are self employed, have a prior foreclosure, short sale or bankruptcy. If you want to dive deeper into these strategies, be sure to sign up for Rent to Own Academy, which is a crash course in learning how to buy a home without the banks. I'm hard at work putting everything together, to spill the beans on everything that I know which has helped me buy and/or flip nearly 100 homes over the last 8 years without bank financing.