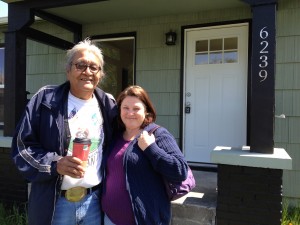 This weekend saw three of our rent to own homes getting tenant-buyers! Great properties go quick, especially when they're offered with no-bank-qualifying lease-purchase/rent-to-OWN arrangements. Nelson and Debbie (pictured) are the latest members of the 'family' and we couldn't be happier for them.
All rent to own homes are NOT created equal, so be sure you ask the right questions and due diligence. All of our homes are available with the Never Lose Guarantee, which gives you the benefit of appreciation without the risk that can come if the market falls. The good news is that many signs are pointing to a market that is beginning to warm up, so now is the time to lock in the price of a home and start putting your hard earn money towards equity, instead of just rent.
Remember, we don't just sell homes on rent to own, my wife and I are buying a house with a rent to own as well. We understand things from both the sellers and buyers perspective and we want to show you how you can go from renting to owning. If you haven't done so already, be sure to sign up to be added to our VIP Early Notification List. It's completely free, and you'll get valuable tips as well as access to our latest rent to own homes before they're advertised to the public.